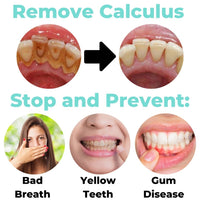 Instant, Effortless Results
Almost all of us have some dental calculus or stains on our teeth. Calculus builds up from eating sugary foods, and stains are caused by coffee, wine, and other drinks.
The SonicSmile Wand gently removes these problems in as little as 3 minutes a day. Simply use your wand once a day as needed and see results fast.
Shop Now
How it Works
The SonicSmile Wand uses ultrasonic technology to produce sound waves that create up to 180 vibrations per second. These vibrations breakup and remove dental calculus and stains and disrupt bacteria cells.
The precise nature of the vibrations allows for a faster, more gentle cleaning compared to a manual scraper.
Shop Now