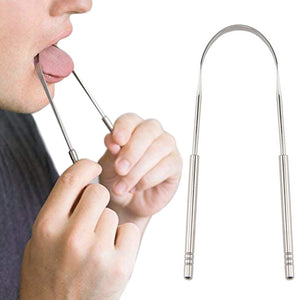 Your Tongue Isn't As Clean As You Might Think...
Bacteria builds up over time causing bad breath, a worsened sense of taste, and discoloration.
Remove all bacteria quickly and easily with the dentist-recommended SonicSmile™ Scraper. Stop worrying about bad breath and get a truly clean mouth!
7x More Effective than a Toothbrush

Using a toothbrush on your tongue only spreads bacteria around your mouth. They are also bulky and uncomfortable, so you can't reach all parts of the tongue.
That's why dentists recommend using a metal tongue scraper. Our stainless steel design removes all unwanted bacteria without activating your gag reflex so easily.
Instant, Effortless Results
Eliminate all bacteria in a minute or less. We recommend scraping twice a day, right after brushing your teeth.
Using your scraper is easy — simply place it on the back of your tongue and pull gently to the front. Repeat this process for the entire tongue, with 1-2 scrapes per area.
Frequently Asked Questions
Question: Can this hurt my tongue?
Answer: Nope! Our scraper has smooth, even edges that are safe for your mouth.
Question: How often and when should I use it?
Answer: We recommend using your scraper at least twice a day, right after brushing your teeth.
Question: How can it be sterilized?
Answer: Simply wash the scraper with soap and water and let it dry.
Question: What if I have a sensitive gag reflex?
Answer: The SonicSmile™ Scraper's low profile make it less likely to activate your gag reflex. To be careful, you can start closer to the front of your tongue, then move back as you get used to it.
30 Day SonicSmile™ Guarantee
We have an iron-clad, risk free guarantee. Try it for 30 days and if you aren't satisfied, simply contact us for a full refund.